"Loved our experience! very well prepared and set up. very professional, friendly, and made the tour fun. can't wait to check out some of the other areas! would highly recommend :)"
Sarah
"It is the perfect date night atmosphere; we left the kiddos at home... it was magical under the star's small plastic bottle of wine in hand and simply living in the moment of the magic. I couldn't have had a more perfect night for someone like myself that loves the water."
Texas Paddle Board
"We had an awesome time. So relaxing out on the water. Definitely recommend 100%, we will be doing this often. Thank y'all a bunch. -Marissa Leyva"
Marissa
"This nighttime kayak adventure was so fun! My husband and I have kayaked quite a bit in the Pacific Northwest, so the thought of night kayaking in warm waters was intriguing. GlowRow for the win! The equipment was amazing and the guide/owner did a great job. Thank you for an awesome paddle!"
Joyce
"My wife and I had an awesome date night! The instructor was friendly and amazing!"
Fernando
"Glow Row is great!! The guides help us navigate through the bay area, pointing out sealife and various birds. They both were knowledgeable and answered the variety of questions. I would recommend this tour to new comers and vacationers."
Yvonne
"We had a great time at the Port Aransas GlowRow last week! Fish were trying to jump in our boats! It was beautiful being on the water at night with the stars and just a few clouds. A really fun experience seeing the fish under and around our boats. A truly enjoyable experience!"
Holly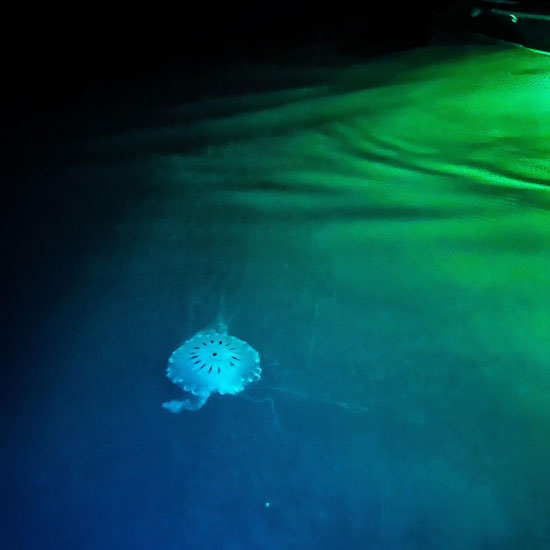 THE WILDLIFE
No, this is not seeing what "wildlife" is going to the local pub. In fact, there's nothing quite like exploring the inlets and bays of the Gulf in clear kayaks with the water and seafloor below you illuminated clear as day. You will see numerous types of fish, crustaceans, birds, and, in some locations, curious submerged man-made objects. Any treasure hunters out there?
THE EXPERIENCE
Our tours are not just a fun way to cruise the beach in style, they're a great way to learn more about the area, the environment, and perhaps even yourself. There's something relaxing and even ethereal about being in the middle of the water when it's pitch black with fish, crustaceans, and birds all around… then you hear a dolphin breach and take a breath. Time to give chase! It truly is a magical experience that never gets old!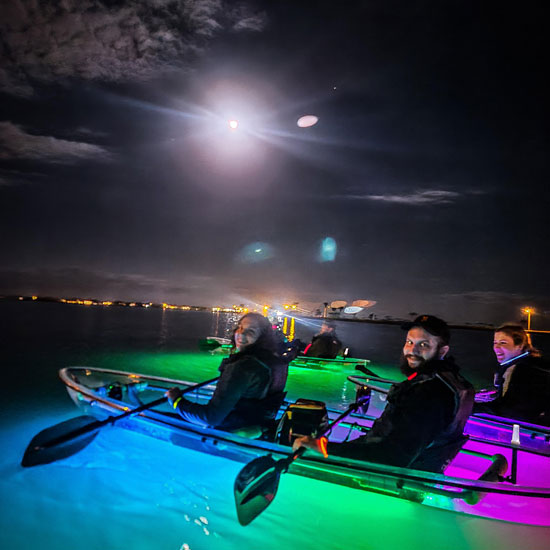 THE PEOPLE
If you think you're excited to go on a glowing kayak tour at night, you should see our staff. You won't find anyone more dedicated, knowledgeable, or friendly - they love what they do, and they love making sure you have an amazing trip! Having grown up on the coast, they also know all the best spots to find the coolest sights and you might be surprised at some of the things you might learn from them on your trip. Who knows, it might even help you land your next Wordle in less than three tries! And if you're lucky, you might even have a fish jump into the boat with you for a photo opportunity! Everyone has seen the movie "Finding Nemo" please be sure to return them.
THE LOCATIONS
We have lighted kayak tours in multiple locations, including Port O'Connor, Rockport, Port Aransas, and North Padre Island, with many additional expansions in the works. Check back often to see what we're up to and where we're glowing near you! And if you have an interesting kayaking trail or location we should check out, please let us know!